Orthodoxwiki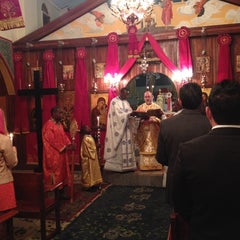 Orthodox liturgy in Lusaka (from here)
The Holy Archdiocese of Zambia and Malawi is an archdiocese under the jurisdiction of the Greek Orthodox Patriarchate of Alexandria and All Africa. Its territory includes the parishes and missions located in the nations of Zambia and Malawi.
The Archdiocese was originally established as the Diocese of Zambia by a Patriarchal and Synodal decree on February 22, 2001 with jurisdiction over Zambia. On October 6, 2009, the diocese was elevated to an archdiocese with jurisdiction over Zambia and Malawi. The see of the archdiocese is located in Lusaka, Zambia.
On October 13, 2011, His Beatitude Theodoros II of Alexandria, His Eminence Ioakeim of Zambia and Malawi, His Grace Ioannis of Mozambique, and His Grace Nikodimos of Nitria, consecrated the new Church of the Resurrection of the Lord in the city of Blantyre in Malawi. The church with its auxiliary school buildings and a clinic have improved a formerly dissolute area, that His Beatitude also noted to the Malawi officials would include a planned hospital.
Archbishop Ioakeim
Ruling Bishops
News & articles from Archd
iocese of Zambia & Malawi
here & here.
Archbishop Ioakeim of Zambia & Malawi, facebook
How Our Orthodox Brethren In Zambia Commune (video)
Lusaka Greek Orthodox Church - Foursquare
Orthodox Patriarchate of Alexandria and All Africa
In the Orthodox Vineyard of Africa
Walking to the Kingdom of Heaven
Dear brothers,
...Today the Orthodox community of Malawi is mourning. We are all sad because we have lost a very important and beloved member of our Church.
Paul, our neophyte orthodox native brother and catechist with fervent missionary zeal, is no longer with us. His soul has gone to meet Christ, whom he so much loved.
Paul was an exemplary Orthodox Christian. He had been catechizing his native brothers properly for plenty of years. He longed to communicate Orthodoxy to his country and was sorry that not all Malawian people were Orthodox, like Greeks! He was a little theologian! He attended our seminars for a year regularly and was among the first to come; he would take down notes very carefully and every week he would draw as much orthodox knowledge as possible from the weekly papers we have available in English and tsitseoua and would impart them to others.
Among his many catechumens was Father Ezekiel (the newly ordained priest), who, deeply touched, perfomed the funeral service along with Father Nicodemus.
The deceased Paul loved the orthodox prayer book so much that he was carrying it with him all the time, feeling, as he used to say, that it was as valuable as the Holy Bible. He marveled at the profound meanings coming out of the God-inspired prayers of the compline and the other prayers of night and day. He would pray being fully aware of what a prayer means. The prayer book was his best friend, that is why he tried to impart this experience to the others as well.
At the region of Dirandi, Paul was of the first Christians who formed a prayer group and begged daily and persistently to God to give them a Church; Indeed, God heard their prayers because a prestigious plot was found and purchased in their area as well as the donor who would build the Church in the name of Aghios Antonios (Saint Antony). This way, on the one hand Paul's soul flew to Heaven, on the other we are going to make his wish come true. We are certain that he rejoices up there and glorifies God for listening to his prayers.
Our beloved Paul, even in the last days of his life when God visited him with his illness (tuberculosis), made us admire him because not even once did he resent his condition for two whole months that he was sent to hospital. Instead, he was glorifying God! He had a peace and gratitude for everything. As he would say: "God has given me the most precious gift, true faith." He felt that deep inside, that is why he was really grateful despite his material poverty.
He left his last breath at the age of 51 in hospital, in the arms of his wife, a very pious neophyte Orthodox Christian. His soul flew to the Creator in reverence.
It is worth mentioning that his funeral service was attended by a lot of natives, Orthodox, non-orthodox, even Muslims, since he was beloved by everyone. Through the love and peace that characterized him, he had achieved something very important: to reconcile, unite and preach the love of Christ.
It is not an overstatement to say that until the last moment of his earthly life, Paul was honored by God to bring people close to the Orthodox faith and tradition that he so much believed in and loved.
We dare say so because a large number of people who attended the funeral service marveled at the grandeur, and the profound meanings of the psalms and the prayers of the service. They said: "What beautiful words you have, who are you, where are you so that we can come to be catechized…."
Wondrous is God, who finds ways to invite us close to him.
Everlasting be the memory of our brother Paul.

Fr. Nicodemus Chilembwe: an indigenous missionary
Father Nicodemus Chilembwe, Orthodox clergyman from Blantyre, Malawi, happened to be in Greece this summer in order to make a pilgrimage to the Holy Mount Athos and delve into Orthodox spirituality. Taking advantage of his presence, we asked him to talk to us about Orthodoxy in this small country in East Africa.
7 years ago I was a Protestant in religion and a translator in profession. I liked to read and translate texts from English into Chichewa, the native language of Malawi. One day, as I was crossing the city, my eyes fell upon an Orthodox church. I found the spectacle rather strange. In some way it looked like a mosque, but the cross indicated that it was something related to Christianity. Curiosity prompted me to go in and observe its interior. I got confused. Although I was a faithful Protestant, that place was totally unfamiliar to me. A deep sense of awe came over me.
Suddenly, I saw a black figure approaching me from the north side of the church. I wanted to run away, but an Orthodox priest stopped me. It was Fr. Ermolaos Iatrou. "Who are you? What made ​​you come here?" he asked. "I wanted to know some things about this church," I said and started to ask questions. After some discussion, I asked him to accept me for catechesis.
Some time later, Fr. Ermolaos asked me what I did professionally. Once I told him that I was a translator, he suggested that I should work in the translation and printing office of the Mission. It came as a blessing to me. At the same time, he gave me a stack of books on the Orthodox faith to study at home. Little by little, some of my friends were interested in what I was doing and wanted to come for catechesis themselves. I was baptized one year later. Initially, it was difficult for my family to understand my conversion, but by the grace of God that changed.
On May Day 2009 I was ordained priest. This was a blessing as well as a new opportunity for me to get to know my faith better. In the Orthodox Church we can never learn it all. We always learn something new.
Then, I was assigned the ministry of catechesis. In time, I came to realize that the doctrines of our Holy Church are very strong because Orthodoxy originated in the Apostolic Age, the age of the Bible. It is not like the other churches that sprang up suddenly out of nowhere, without roots.
In the Orthodox Church, when we pray, we feel the power of the prayer. The protestants know nothing about the Holy Mysteries. Neither do they talk about the Holy Trinity. They perform baptism just by sprinkling with water and not according to the teachings of the Bible. Our pastors were afraid of getting wet with the water. They do not practice the Sacrament of Confession, neither do they have a spiritual father. However, when one wants to meet a President, one has to follow a protocol. Likewise, we should keep the protocol set by God for the remission of our sins.
This is true Faith. And the people who are serious eventually come to realize that, whether they turn to Orthodoxy or not. Unfortunately, Orthodoxy is something new for my country. They constantly ask me, "Where have these people been for so many centuries?" This is a difficult question to answer. My reply is that it was God's plan.
Today there are 2,000 people who have already been baptized Orthodox and many others who are being monitored and catechized for at least one year.
Our main activity is catechesis. Naturally, this involves a lot of traveling from the city to the villages. Getting around is really difficult. Problems like having no petrol or getting stuck on the road are very common. We have 25 parishes across the country, with the exception of the northernmost part, but so far we have only managed to erect a Sacred Church in 10 of them.
Moreover, we do charity work as well. We do everything in our power to provide access to clean water because Malawi faces a big problem regarding water supply. We have already drilled over 20 water wells. Besides, we strive to provide food for 300 orphans on a daily basis, a task which is very difficult to accomplish! Many times we have nothing to give them; it is then that the thought of giving up crosses our minds. But since we started, it would be like an act of betrayal towards these children. We hope in God and continue our work.
We also try to visit prisons regularly. We give the prisoners gifts and also preach and catechize them. Some groups have already been formed but until now there have been no baptisms. On our part, we have designated a committee to visit and catechize the inmates in every prison. We also wish to organize spiritual meetings for women, but so far we have not managed to realize that.
Fortunately, there are some believers who are characterized by great zeal for the propagation of our faith. We have sent six of them to Kenya to study at the Theological Seminary there. Once they have finished and if called by God, they will be ordained priests. There are also some earnest catechists who are sent to the villages for catechesis. Every week we invite them and teach them at the school for Catechists. We instruct them not to teach anything that is not included in the Orthodox books, and certainly not to improvise. If they cannot respond to a certain question, they should not say anything, but instead, consult their books, read the proper answer and then explain it.
Running the printing and translation center of our mission is a difficult and demanding job. We need to find educated persons with a very good knowledge of English. Unfortunately we have no Orthodox people available who would be eligible to undertake the translation task. We have already translated the services of the Divine Liturgy and of some Sacraments. We have provided every believer with a booklet to read and understand the Divine Liturgy. We are currently translating the Menaea. Most believers attend the Matins, the Vespers and the Compline.
The translation process is a very tedious and costly task for our Mission. Good translators ask for a good salary, too. Thus a lot of money is required, as we do not need someone who only deals with translations part-time, because then the quality of the translation will be substandard and the translation rates slower. If something is unfamiliar or new to the translators, they come to me and I explain it to them.
I hope to increase in my knowledge of God. I am not pleased with myself. Recently I was in the Holy Monastery of Karakalou. There I had the chance to do some meditation and I wondered how much more difficult it is for a married clergyman who lives in the world to be saved. I read the book on Elder Joseph the Hesychast and I realized that I did not know many things and that my knowledge of God was limited. I want to be very close to my spiritual father and other devout brothers in order to fill my life with the truth. I also want to be able to share this truth with all the people so that we can inherit eternal life, which only the Orthodox faith can attain. My vision is to become holy myself and lead people's souls to Christ.
Fr. Nicodemus Chilembwe
A church for Ngwara village
Dear friends of the Mission,
Rejoice in the Lord!
We are writing from far-off Malawi in Africa in order to share with you the joys and sorrows of the Mission one more time. Always with the blessings of our Metropolitan, we keep up our humble ministry in praise of oυr Benevolent God, and our Church here is growing slowly but firmly.
Through plenty of difficulties and with your valuable support so far, we have managed to erect a small number of churches and schools, thus meeting some of the neophytes' needs. Unfortunately, neither our holy churches nor the schools are enough. In almost 10 parishes that have been formed, our orthodox brothers gather in thatched huts. It is there that they pray. It is there that their holy services are conducted. In the rainy season the roofs are often leaky, or the mud bricks collapse.
One of these parishes is the Chiradzulu region, in the mountainous village of Ngwara. In this village, we baptized the first orthodox Christians in the last four years. Their patience and endurance are admirable.They themselves made this thatched hut and gather on Sundays and feast days. One might expect that their interest in faith would decrease and that they would be turned away from our Church. On the contrary! They were not disappointed. Nor did they betray their faith.They often say: "We were baptized Orthodox Christians, and with that faith we shall die." They often pray to God with tears in their eyes so that He reveals a devout donor to build them a proper church. That is the only request they have in their hearts: a Holy Church in which they will be able to worship our Triune God decently.
We are deeply touched by their moving interest and sole concern, which is to have a strong, healthy parish. Actually, they have organized their parish very well. They have elected church-wardens. They discuss their problems all together and in groups they visit other Christians who are in greater need. Each one of them gives a few kwachas; This way, they manage to raise a scant amount of money and relieve some afflicted souls. This parish is an enviable model of philanthropy and love. These people give out of the little they have in order to help others who need it more… some elderly, the orphans of the village, the lonely ones, the disabled and the destitute. All these receive the assistance of the parish and have its protection. Our brothers there often ask us which Saint they should dedicate their Holy Church to (that is, the thatched hut they use for a church). We do not answer them because we do not know ourselves, since it is the donor who usually determines where the Holy Church will be dedicated. And they wait patiently. Patience and prayer.
Brothers, let us not keep these good-hearted people waiting, for they are conscious believers who have applied the Bible to their lives. We appeal to your love: if any of you can afford it, let them offer this region a church. The one who builds a Holy Church in the Chiradzulu region, Ngwara village, will be granted a lot of blessings. These people will be deeply and eternally grateful to the one who will offer them a plain Holy Church. Their ardent prayers will be with him/her for ever. Their priest will be commemorating their benefactor and his/her family in the Divine Liturgy continuously.
From that spiritual flock, a new gifted future priest has already stood out. It is the catechist Alexander, who, by the Grace of God, will be sent next year to study at the Theological Seminary of Kenya for three years. It is no wonder that from such parishes like the one of the Ngwara village, only spiritual virtues can come out!
With love in Christ
Fr. Ermolaos Iatrou from Malawi