Holy Archbiocese of Johannesburg and Pretoria
& Holy Archdiocese of the Cape of Good Hope
Archbishopric of Johannesburg and Pretoria
The Holy Archbishopric of Johannesburg and Pretoria was founded in 1927 by the then Patriarch of Alexandria, MeletiosMetaxakis. Its seat was in Johannesburg and it had jurisdiction over all the Orthodox, from Eastern Africa and the Equator to the Cape of Good Hope. Isidoros Georgiades was its first Metropolitan. He was followed by Nikodemos Zacharoulis, Paul Lyngris, Ioannis Zachariou and Seraphim Kykkotis who is now Metropolitan of Zimbabwe and Angola.
In 1959 the dioceses of Central Africa, Accra and Irenoupolis were removed from its jurisdiction. In 1968 the regions of Zimbabwe and the Cape of Good Hope were removed. This was followed in 2001 by the removal of Zambia and, recently, by Mozambique as these regions acquired their own episcopal jurisdiction. The Holy Archbishopric of Johannesburg and Pretoria today encompasses Gauteng, Mpumalanga and Limpopo provinces of South Africa.
Metropolitan Damaskinos of Johannesburg and Pretoria, (Ph. Papandreou according to the World) was born in Ermioni of Argolis 1957. After his secondary schooling, he studied Political Sciences and Theology in Athens. In 1987 he was ordained Deacon and Presbyter and then elevated to Archimandrite. He served in Greece and Africa as priest, preacher, catechist and missionary. His Beatitude the Pope and Patriarch Theodoros II proposed that he be chosen Bishop of Ghana. He was elected unanimously by the Holy Synod of the Patriarchate on 27 October 2004.
He was ordained by the Primate of the Church of Alexandria in the Holy Church of St. Savvas on 30 October 2004. On 7 October 2010 His Beatitude proposed that he be elected Metropolitan of Johannesburg and Pretoria. The Holy Synod confirmed this.
Mission & Activities
PASTORAL MINISTRY
On a regular basis, His Eminence wherever he may be officiating, and by the parish priests of the Archdiocese.
They Function at all the Churches of our Archbishopric. Senior, Middle and younger ages. His Eminence our Metropolitan supervises. Relevant educational seminars by specialized speakers are held monthly for the teachers. The co-ordinator is Mrs Elena Nicoletis and an annual festival of Sunday schools is held at which plays and narrations are presented.
Take place every month at which presentations and speeches are given for the furtherance of the priestly ministry. His Eminence oversees these.
Members:

fr Markos, fr Jacobus, frAthanasios, fr Evangelos and fr George Cocotos
4.

Radio Programme of our Archdiocese on the New PanHellenic Voice
Weekly Church Radio Programme "Ecclesiastical Pharos" every Monday evening, 7:00 – 8:00 pm.
Responsible People:

His Eminence the Metropolitan, Archimandrite fr Markos, fr Gerasimos and assisted by Maria Tzerefos
5.

"Stegi Agapis" of the Archbishopric of Johannesburg and Pretoria
Committee chaired by His Eminence our Metropolitan Damaskinos. Members are Ms. Stella Zisimides, Ms. Soula Andreou and Ms. Vasilia.
Destitute members of the community are housed and provided for.
6.

Patriarchal Center for the Youth at the Patriarchal Church of Sts. Cosmas and Damian
Chairperson:His Eminence our Metropolitan
The center is equipped with computers, internet and a library and is a place that attracts and educates our Orthodox youth on matters of faith and social issues – aids, drugs, alcoholism, smoking and preparation for marriage.
7.

"Bookshop of St. Mark" of our Archbishopric on the grounds of Pandanassa – Melrose.
Mrs. Koula Panayiotou is in charge and the bookshop functions every Sunday after Divine Liturgy. For emergencies contact 011 880 5680.

PUBLICATIONS


1.

Calendar of the Archbishopric
2.

Translations of Liturgical and Catechetical works in local languages
3.

Cultural Center of the Archbishopric on the grounds of the Patriarchical Church of Sts. Cosmas and Damian
Chairperson:

His Eminence Damaskinos of Johannesburg and Pretoria.
1.

Benevolent Fund of the Archbishopric
Chaired by His Eminence the Metropolitan and members: fr Nikodemos, fr Markos, fr Paisios and fr George. Efforts are made to support persons in need and orphans.
2.

Department of clothes, shoes and meals for the destitute
Chaired by His Eminence our Metropolitan. Members: fr Athanasios, Maria Tzerefos, Polo Davidson, Ms. Rodoula and Cathy Macdonald.

3.

Department of Social providence ad Family Planning
Special educational seminars are organized and various programs are coordinated.

4.

Department of Drug Awareness, Support for the sick, persons with Aids and the imprisoned.
Educational Seminars are organized and visits are undertaken to our ailing brethren. Special concern is shown for the young.
5.

Department of Blood Donation
Chairperson: His Eminence our Metropolitan
Members: fr Athanasios, fr Gerasimos and Maria Tzerefos
Through the cooperation between the Archbishopric and the New PanHellenic Voice and with the organizing skills of Maria Tzerefos and her assistants, a blood drive is held every six weeks on the grounds of Saheti School, in the Scout Hall.
6.

Grace Center of the Greek Archbishopric of Johannesburg and Pretoria
Our Archbishopric's center for Street Children and Social Education "Alexandrian Pharos" in Yeoville.
HOLY CHURCHES AND CHAPELS: here!
On 18 March 2001 His Eminence Metropolitan Seraphim was enthroned as the new Archbishop of Johannesburg to replace the late Metropolitan Ioannis, who reposed in the Lord in October 2000. One of his first acts as Archbishop was to open and speak at the first Orthodox missiological conference held in South Africa, a joint venture of the Aristotle University of Thessaloniki and the Rand Afrikaans University in Johannesburg, with the support of several other bodies.
We welcome His Eminence and look forward to more news of mission acvtivity in the Archdiocese in future.
The African Orthodox Episcopal Church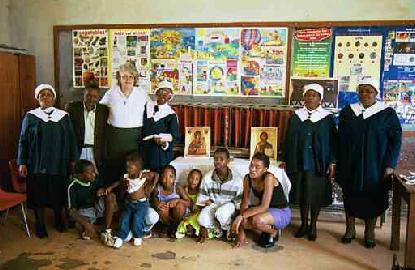 In February 1997 the leaders of the African Orthodox Episcopal Church (AOEC), which has about 7 congregations to the north of Pretoria, wrote to the Archbishop of Johannesburg and Pretoria and asked to be united with the Orthodox Church. They had made contact with the Orthodox Church though Stephen Hayes and Archimandrite Michael Visvinis of the Pretoria parish.
The AOEC is an African independent church (AIC). There are over 7000 AICs in South Africa, and many more in other parts of the continent. It was one of a group of AICs that claimed an Orthodox background, but is uncanonical, and has sought to be united to the Orthodox Church.
In March 1999 Archbishop Ioannis, the Metropolitan of Johannesburg and Pretoria, appointed Fr Bert Olechnowicz as the official liaison person between the Archdiocese and the AOEC, and Fr Bert is planning to hold a series of meeting with the AOEC leaders to help them prepare to be received into Orthodoxy. The members of the AOEC speak several different languages, and so liturgical texts will have to be translated into Zulu, Sotho, Tsonga and other languages.
Holy Archdiocese of the Cape of Good Hope
The Holy Archdiocese of the Cape of Good Hope is a diocese in southern Africa under the jurisdiction of the Greek Orthodox Patriarchate of Alexandria and All Africa. Its territory includes the parishes and missions located in the countries of Namibia, Swaziland, Lesotho, Natal, and in the Republic of South Africa, both east and west of the Cape of Good Hope, and including Port Elizabeth, East London, Bloemfontein, Welkom, George, Knysna, Kimberley, and Pietermaritzburg.
The Archdiocese of the Cape of Good Hope was established as a diocese in 1968 by a Patriarchal and Synodal Decree.
Archbishop Sergios was born in 1967 in Kaminaria, Marathasa (Myrianthousa) in Cyprus. Following completion of his high school education, His Eminence entered a monastic life with the Brotherhood of the Holy Royal Monastery of the Panagia of Kykkos Founded with a Cross. In 1986, he was ordained a deacon. In 1996, he was ordained to the priesthood and received the rank of archimandrite from His Beatitude Chrysostomos I, Archbishop of New Justinian and All Cyprus.
Archimandrite Sergios continued his education, studying theology at the Theological Faculty of the University of Athens, from which he received his degree in 1992. While he was studying in Athens, he served in the Archdiocese of Athens. In 1997, he entered the Church of Alexandria and, at the request of Patriarch Petros VII, served as parish priest in Port Elizabeth, South Africa.
On November 23, 1999, Archimandrite Sergios was elected by the Holy Synod as Metropolitan of Good Hope. He was consecrated on November 27, by Patriarch Petros VII and enthroned in Cape Town on February 13, 2000.
Activities (from the official web site of the Archdiocese)
Christmas at Orthodox Center for Children from Khayelitsha (from here)
Orthodox websites in South Africa
Orthodox Archbishopric of Good Hop, Cape Town
Orthodox Archbishopric of Johannesburg and Pretoria
Orthodox Metropolis Of Good Hope - Cape Town - Facebook
Orthodox in Southern Africa
Orthodox in Gauteng
St Nicholas of Japan, a multi-ethnic orthodox parish in Johannesburg